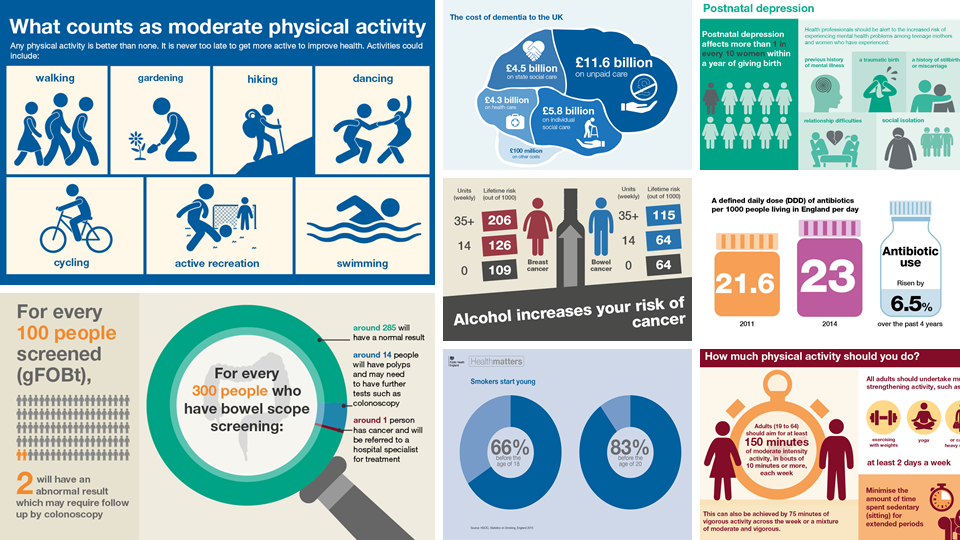 At last year's PHE annual conference we launched Health Matters with the aim of helping local authorities and health professionals improve population health and reduce health inequalities in their local area.
The transfer of public health services from the NHS back to local government created huge opportunities for local authorities to make a stronger impact on improving the health of their local communities.
And in our annual stakeholder survey you told us that in order to fully achieve this ambition you needed targeted and usable information from PHE to support the commissioning of effective evidence-based public health interventions at a local level.
We want Health Matters be part of the solution to this challenge and to date, we have published seven editions covering a range of key public health topic areas:
Our eighth edition will be launched this week and will focus on the roll-out of standard packs and how this presents a unique opportunity to encourage smokers to quit.
We hope that every edition of Health Matters can offer you information, resources, statistics and facts you need in engaging and easy-to-use formats like infographics, blogs, videos and podcasts.
Because if you find the content useful - and usable – it will help you make the case for public health interventions in your local area.
Our first Health Matters user survey found that half of responders had used the content to help with informed decision making. What's more, 51% discussed it with a colleague, 37% had forwarded it to a colleague and 17% used the content in discussion with a patient or service user.
We're really pleased to see many people using the graphics and slides and have seen them displayed in GP surgeries, on local authority and CCG websites, in presentations and on handouts at conferences.
We'd also like to thank the many partners who have shared the content with their social media audiences; organisations from across the health sector, local government and professional bodies – exactly the people we need to engage with.
And since the launch, subscribers to the Health Matters bulletin have grown to over 4,200 - if you haven't already signed up then you can do so here!
Through the thousands of GOV.UK page views, blog views and retweets, and the many positive comments, we know that people are noticing Health Matters, liking the content and are using it at a local level.
But real success for us will be helping you improve public health services and that's why we must keep consulting you and refining the product to ensure it meets your needs.
So what's next for Health Matters?
Our ambition is to grow Health Matters into the go-to resource for all professionals involved in commissioning and delivering public health.
Along with your feedback, we really value help from local authorities, clinical commissioning groups , health and wellbeing boards and all other interested parties in featuring and linking through to Health Matters from your websites or intranets.
And from this month, Health Matters will move to a monthly publication cycle to ensure that we are able to cover a much wider breadth of public health topics.
Look out for future editions on new topics such as:
Tuberculosis
HIV and sexual health
Cardiovascular disease
Obesity
Hepatitis
Dental health
We actively encourage feedback so if you have used Health Matters and have any tips on ways to improve it, comments on additional information you need or if you'd like to share how you have used it then please email healthmatters@phe.gov.uk.
Health Matters
Health Matters is a resource for professionals which brings together the latest data and evidence, makes the case for effective public health interventions and highlights tools and resources that can facilitate local or national action. Visit the Health Matters area of GOV.UK or sign up to receive the latest updates through our e-bulletin. If you found this blog helpful, please view other Health Matters blogs.