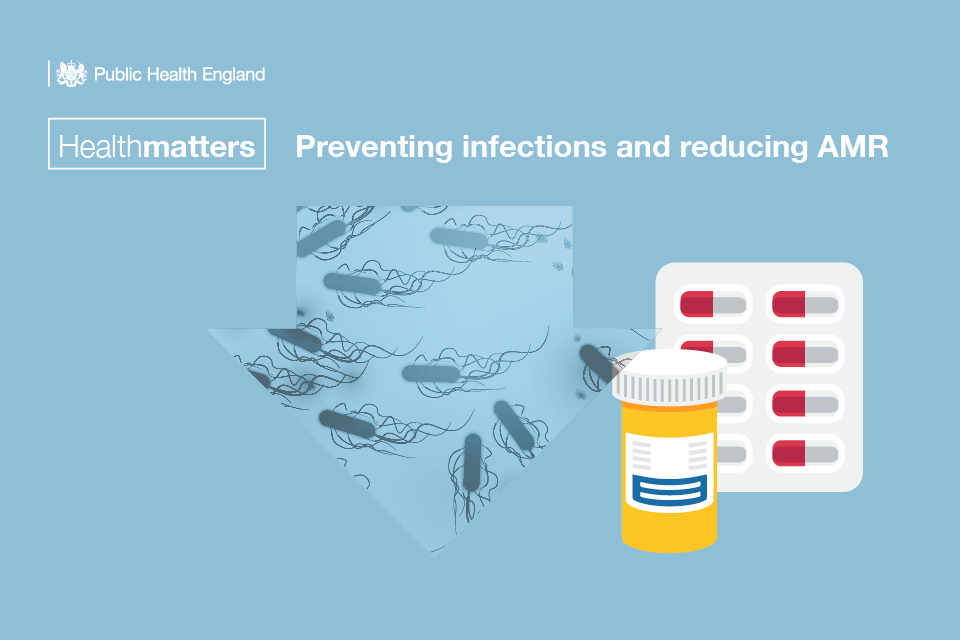 Antimicrobial resistance (AMR) is a key focus right across the health sector. It is estimated that 5,000 deaths are caused every year in England because antibiotics no longer work for some infections and this figure is set to rise, with experts predicting that in just over 30 years, antibiotic resistance will kill more people than cancer and diabetes combined.
As we are moving into the winter months and see common winter illnesses such as  colds and flu increase, there are a number of national initiatives/campaigns and publications running which promote the key messages on AMR and provide the data to back these up. This blog explains what they are, how they work and who should be using and engaging with them.
Health Matters: Preventing infections and AMR
It's important not to lose sight of the fact that preventing infections from occurring in the first place is one of the best ways to prevent AMR. Every infection prevented reduces the need for and use of antibiotics, which in turn lessens the potential development of resistance.
Since the mid-2000s Escherichia coli has been the most common bacterial cause of blood stream infection (BSI). E. coli now accounts for 55% of all Gram-negative BSIs. In 2016, 41% of E coli were resistant to the commonest antibiotic used to treat infections in hospitals (co-amoxiclav) and almost one in five of these bacteria were resistant to at least one of other key antibiotics.
This latest edition of Health Matters, our professional resource, focuses on measures to prevent E coli BSIs and on the importance of having effective infection prevention and control plans in place.
There was also a previous edition of Health Matters on AMR which focused on reducing inappropriate antibiotic prescribing in 2016.
Keep Antibiotics Working
This recently launched, public facing campaign highlights to the public that taking antibiotics when they don't need them puts them and their family at risk of more severe and longer illness. The messaging reminds the public to always take the advice of healthcare professionals on whether or not they need antibiotics; never to save antibiotics for later use or share them with others.
GPs are often asked to prescribe antibiotics by patients who think they can cure a multitude of illnesses, so the campaign materials also educate people on the fact that antibiotics should only be prescribed for serious bacterial infections, for which they are extremely effective at treating.
The aims of the campaign are:
To alert and inform the public on the issue of AMR and the personal risk associated with over/mis use of antibiotics
To reduce the demand for antibiotics
To support health care professionals in their conversations about antibiotics with the public
Materials can be downloaded from our Campaign Resource Centre and there are online assets for social media use including a short animated film, images and text for Twitter and Facebook.
Antibiotic Guardian
We continue to urge people to sign up to become an Antibiotic Guardian by choosing pledges on how they can personally help contribute to tackling AMR on the website. These are designed to make professionals as well as the public think about how they can make better use of antibiotics and personally contribute to tackling AMR, be it through having meaningful conversations with patients or educating family members on the risks AMR poses. Evaluation of the programme has shown that those who become Antibiotic Guardian show increased commitment to tackling AMR, and increased self reported behaviour change and knowledge.
Antibiotic Guardian, developed and launched by PHE and partners in 2014, has been aligned with Keep Antibiotics Working, bringing together the purpose and credibility of an established campaign with a big, consumer-facing public message campaign. Becoming an Antibiotic Guardian remains a focus for healthcare professionals, educators, health students and engaged members of the public who want to spread the message.
Organisations are encouraged to share their planned local activities on AMR with us using this online form.
ESPAUR report
The English Surveillance Programme for Antimicrobial Utilisation and Resistance (ESPAUR) is a programme developed by PHE to improve the surveillance of antibiotic resistance, antibiotic use data and support interventions and toolkits to improve antibiotic prescribing in general practice and hospitals.
The programme recently published its fourth annual report, which highlighted that between 2012 and 2016, overall antibiotic prescribing reduced by 5%, with a 13% reduction in general practice prescribing. While this is good news, the report also showed some concerning trends such as four in 10 patients with an E.coli bloodstream infection in England cannot be treated with the commonest antibiotic.
ESPAUR reports and data act as a resource for commissioning and implementing antimicrobial stewardship policies in England. Local AMR indicators data are available from PHE Fingertips.
TARGET toolkit
TARGET stands for: Treat Antibiotics Responsibly, Guidance, Education and Tools. The toolkit includes a range of resources that can each be used to support prescribers' and patients' responsible antibiotic use.
It is designed to be used by the whole primary care team within GP practices or out of hours settings. These resources can be used flexibly, either as standalone materials or as part of an integrated package and the aim is to enable primary care organisations to demonstrate compliance with the Health and Social Care Act 2008: Code of Practice on the prevention and control of infections and related guidance.
There is a specific guide for GPs on antimicrobial resistance, as well as patient leaflets, posters, self-assessment checklists and training resources.
e-Bug
Operating as a free online resource, e-Bug aims to reduce antibiotic resistance by helping children and young people understand infections and antibiotic use.
The resources are evidence based and have been developed alongside students, teachers and public health professionals.
A consortium of 18 partner countries were involved in the development of e-Bug in 2006 and resources are available in 22 languages in 26 countries worldwide.
It includes resources for teachers and students, both junior and senior, resources for people to run community based hygiene and self-care course Beat the Bugs and educator training.
Health Matters
Health Matters is a resource for professionals which brings together the latest data and evidence, makes the case for effective public health interventions and highlights tools and resources that can facilitate local or national action. Visit the Health Matters area of GOV.UK or sign up to receive the latest updates through our e-bulletin. If you found this blog helpful, please view other Health Matters blogs.