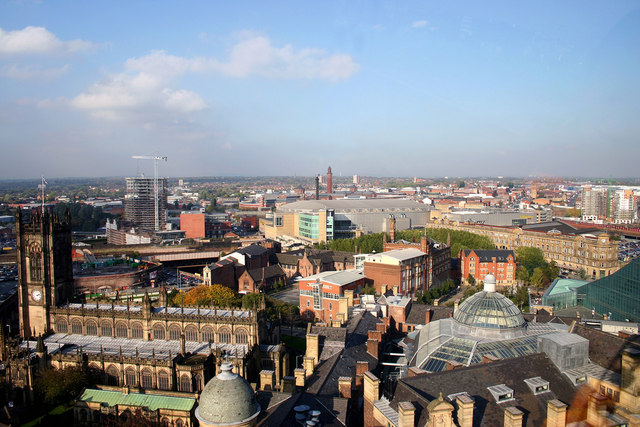 Embracing the future is second nature in the North West and Greater Manchester in particular is no stranger to innovation and change – as long ago as the 1600s residents were adopting vegetarianism and their own way of doing things.
During the industrial revolution Greater Manchester seized the initiative to become the world's first modern industrial metropolis. It is home to the nation's first public library, the birthplace of modern chemistry and the professional football league. It is where Dalton developed atomic theory and Rutherford split the atom. Inevitably it is also where the rainproof mackintosh was invented.
Greater Manchester is leading the way to transforming population health by building prevention at the heart of its programme of health and social care devolution.  The ambition is for the fastest possible improvement to the health and wellbeing of its 2.8 million citizens, which is an end in itself as well as driving a substantial reduction in demand for health and care services and supporting economic growth.
This summer saw the signing of a public health agreement to create a single unified public health leadership system within the wider programme of devolution. The framework joins together the public health endeavour of all ten Greater Manchester local authorities; all twelve Clinical Commissioning Groups (CCGs), the Association of Greater Manchester Authorities (AGMA), PHE and NHS England with the full support of all Greater Manchester NHS Trusts, Foundation Trusts and the Greater Manchester Blue Light Services.
Greater Manchester has successfully built a strong collaboration between all partners which has helped them stay at the forefront of this health revolution. It is a 21st Century revolution in public health and takes us forward to jointly work on an evidence based approach to transforming health.
And whilst the dark satanic mills have gone, overall health and wellbeing in Greater Manchester remains poorer than England and the North West. Income deprivation sits at 19% and child poverty 22.8%.
The challenges may be big, but the opportunities are even greater and Greater Manchester's ambitious agreement to tackle the very root of these challenges has PHE's support.
This is our opportunity to improve health and wellbeing at scale; devolution provides us with the impetus for whole system mobilisation to prioritise population health and place it at the very centre of the Greater Manchester ambition for growth and public sector reform.
We are already playing our part in the development of the five major transformational programmes of work:
public health, reform and growth – making the most powerful case yet for the 'economics of prevention' demonstrating the link between public health, employment and early intervention outcomes.
nurturing a social movement for change - enabling people to make their own informed life-style choices and creating new platforms for full engagement of Greater Manchester residents;
starting well (early years) - the scaled implementation of the Greater Manchester early years model to improve school readiness and addressing long term determinants of public service demand;
living well (work and health) - aligning public health intervention to wider public service reform tackling complex dependency and supporting residents to be in sustainable and good quality work; and
ageing well - setting up a Greater Manchester Ageing Hub to support age-friendly communities and environments, and scaling work on dementia friendly communities, supporting those with dementia to remain connected to their communities and in control of their lives for as long as possible.
In PHE we are aligning our resource and capacity to support a single public health leadership that will deliver these programmes and support Greater Manchester to seize the opportunities within devolution to transform the health and wellbeing of our citizens. We are focusing on the areas of greatest potential for change to achieve our shared ambition to secure improvement in outcomes and ensuring we can make available the right local and national expertise at the right time to increase pace and reach of local actions.
Greater Manchester is taking forward this programme at pace, sharing best practice and drawing up a roadmap for 2016, when on April 1st full devolution takes place – with the handover of the £6 billion health and care services budget.
What will – and won't - this mean for the NHS and social care?

Greater Manchester will remain within the NHS and social care systems and continue to uphold standards in national guidance and statutory duties in NHS Constitution and Mandate – and for delivery of social care and public health services
Decisions will continue to be made at the most appropriate level to the benefit of people in GM – sometimes locally and sometimes at a GM level
Organisations will work together to take decisions based on prioritising their people and their place
From 1 April 2015 'all decisions about GM nationally are taken with GM'
So as Greater Manchester breaks new ground, it will remain in the public health spotlight. This is an opportunity to lead the world and forge a new public health agenda linking prevention and early intervention to economic growth. We must use every opportunity to accelerate and share the learning and knowledge we gain, to innovate consistently, and to constantly seek both challenge as we scale up interventions to achieve maximum impact and momentum for change.
We are supporting work to shape the evaluation of the joint working and learning by working with academia in Greater Manchester with the support of Academic Health Science Network and other parts of the Academic Health and Science system to both drive innovation and best practice and to share this new knowledge with others.
It is a unique chance to shape the future not just for the people of Greater Manchester but beyond. Devolution is the new buzzword of our age.
Once again Greater Manchester is the test bed for a new approach and a new way of doing things. As in the past, the challenges will be great but there is no doubting the overall commitment and passion for change that exists. History it seems is repeating itself.
Image: Martin Butler