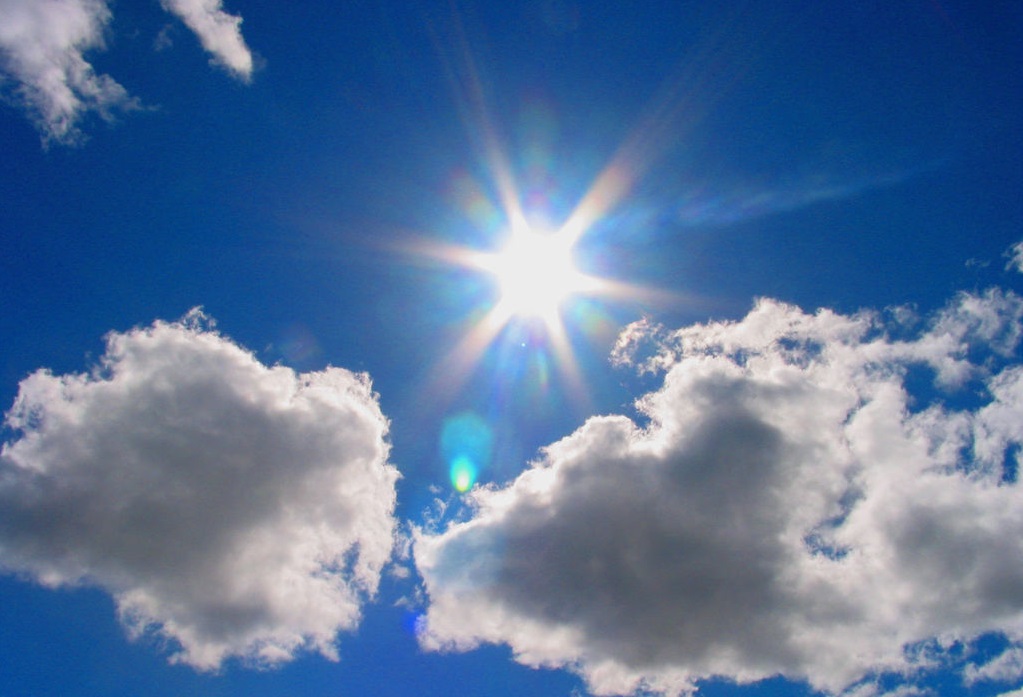 Springtime sunshine is something many of us look forward to. But when the sun comes out in April we need to be careful if at the same time atmospheric ozone levels are low or we have ozone holes.
What are ozone holes and why do they matter?
The Earth's stratosphere has long protected those of us on the ground from the strongest ultraviolet radiation from the Sun.
It does this with the ozone layer - a strip of our atmosphere that absorbs much of the incoming UV radiation from the sun.
But every now and then the layer thins and higher levels of ultraviolet (UV) radiation than usual, penetrate down to ground level.
Although it can happen at any time it can pose more of a problem for people in the northern hemisphere in the springtime.
This is because at this time of the year our bodies have enjoyed relatively little sunlight, or UV, for several months.
Throughout the spring most of us in the UK slowly acclimatise to higher UV. As time ticks by we can tolerate more and more.
Levels gradually increase in strength as summer gets nearer and as we tend to be outdoors more in spring and summer we acclimatise to the stronger levels of UV.
The problem comes if we are exposed to higher levels of UV early in the year because of lower levels of ozone in the stratosphere.
Exposure to this higher degree of UV than we're used to can very easily lead to sunburn – because, as already mentioned, our bodies aren't quite ready for such a short sharp burst of UV.
A sunburn is the sign of damage to the body from over-exposure to UV radiation and may lead to premature skin ageing. It isn't just in the summer or on holiday that we can suffer the ill-effects of the sun.
How do you minimise the risk of unseasonal sunburn?
You can keep an eye on the Met Office weather forecasts and if it's mentioned that UV is high, think about what you can do to minimise your risk.
It's probably best not to strip down to less clothing for too long in such an instance – perhaps continue doing whatever you were planning outside but keep long sleeves, or trousers, on.
Then by the time the event is due to arrive check our UV measurements tool.
We have a string of UV monitors all across the UK, from Shetland to Cornwall, and they provide near live measurements of UV, which you can check from your smartphone.
We'll hopefully soon also be deploying a mobile system to major events, but that's a little way off yet.
One other point that's worth making is that just because it may be a little windy or cloudy, UV may still be high and you may still get burned. Don't be fooled into thinking just because you can't feel or even see the sun, it's safe.
During an ozone event the high UV levels can penetrate to ground level whatever the conditions nearer the ground.
They key is to take the warnings seriously. Anyone who's had one will tell you a sunburn is no fun at all (getting one right at the start of the year is even less fun) but they're relatively easy to avoid.
Key points for staying safe during an ozone event
Keep a close eye on the Met Office forecast.
On days high ozone events are forecast be aware it's happening and if planning to be outdoors for long periods, particularly with children, think about your skin type. People with fairer skin are more vulnerable to the effects of strong UV so protect yourself, for instance wearing long sleeves. Remember that UV can still be high when the sun is obscured by clouds.
Check UV levels in your area. The graphs are regularly updated and may give you an indication of the strength of the UV.
Image: Mary