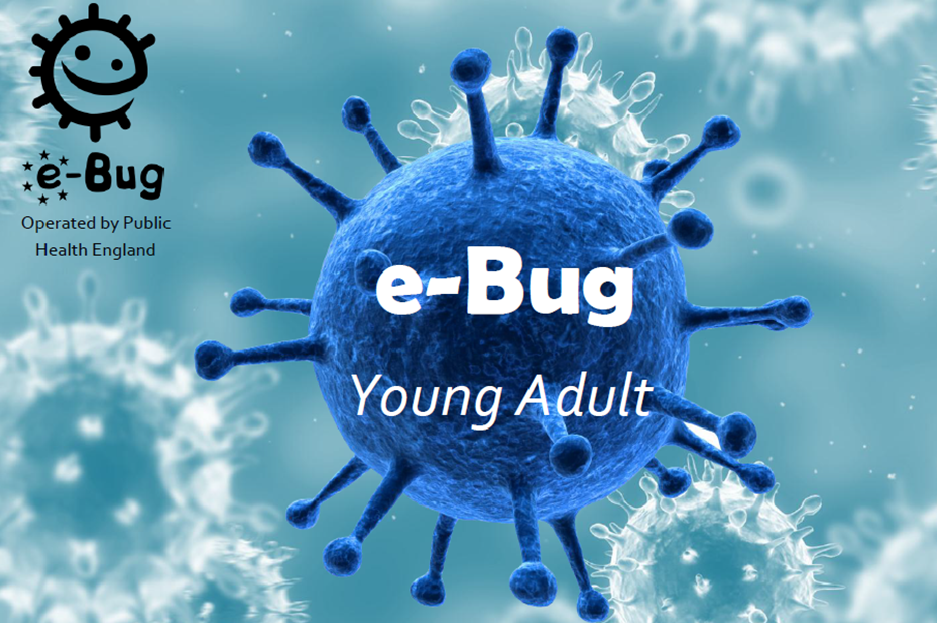 Educating all generations about antibiotic resistance
Infections caused by antibiotic-resistant bacteria are becoming increasingly difficult to treat. As the misuse and overuse of antibiotics contributes to the rising emergence of antimicrobial resistance (AMR), it is important to engage with the public as much as possible, as they have a vital role to play in reducing AMR.
All age groups should be aware and cautious about antibiotic use, including children and young people. To this end, PHE operate a free health resource called e-Bug, consisting of lesson plans, worksheets and multimedia for educators and students from ages 4 to 18. e-Bug, which is an evidence-based resource, primarily educates students on infection prevention and control and covers a range of topics including:
antibiotics
vaccinations
microbes
hygiene
The resources were developed alongside students, teachers and public health professionals. Not only is e-Bug a useful tool that links to the national curriculum, the resources have been endorsed by NICE, are available in 23 languages and are utilised by 23 countries worldwide. e-Bug also runs Train the Trainer sessions for teachers and local authority professionals on the activities and lessons to increase implementation of the resources in  the UK. Since 2016, e-Bug has trained over 100 individuals.
Peer Education; an innovative method to educate young people on AMR
The peer education model developed by e-Bug involves students teaching other students of the same age or younger. A recent study by e-Bug involving secondary school students teaching primary school students on infection prevention and control showcased the benefits of this approach. Peer education on hygiene, microbes and infection prevention increased knowledge intake, and improved communication and confidence.
e-Bug currently hosts peer education resources for secondary schools and further education (A-level) on infection prevention, antibiotics and antibiotic resistance. The team are currently evaluating the further education resources with Cardiff University and Manchester University, in which university students teach A-level school students about antibiotic resistance, who in turn teach their own peers.
Our peer education model has also been highlighted in PHE's pledge for the '#iwill campaign', with hopes to use the model to teach about wider issues such as sexual health in the near future.
British Science Week 2018
As part of this year's British Science Week (9-18 March), PHE scientists will be visiting 10 schools across England to hold interactive science workshops for pupils aged 13-14 years. The scientists taking part specialise in a range of disciplines, including toxicology, microbiology, environmental public health, microscopy, vaccine research and epidemiology.
The e-Bug team has been an important partner in the delivery of British Science Week by leading outreach training sessions aimed at all scientists taking part in the science workshops,  and advising the scientists throughout the development of their activities.
From pupils extracting DNA from their own cells using household products, to a science and health-related game of Articulate and quizzes on air pollution, the aim of these workshops is to inspire the younger generation and future scientists to consider a STEM-related career and showcase the variety of areas within science that they could pursue.
British Science Week is an annual ten-day event, with this year being its 24th year running. It encourages organisations, scientific professionals, science communicators and educators to organise events that engage the general public with STEM.
To celebrate British Science Week, e-Bug is also exhibiting at The Big Bang, Birmingham; an annual fair organised to inspire young people on science and engineering. The Big Bang brings in approximately 70,000 visitors each year and this year, e-Bug will be presenting a range of their fantastic activities for attendees to get involved with. One example is Bogey Busters, an exciting activity involving a snot blaster to teach about respiratory hygiene and the spread of infection. At Big Bang, attendees will have the opportunity to test out the Snotgun, predict the speed and distance of a sneeze and take a selfie with the team using e-Bug's new Bogey Buster Snapchat filter.
e-Bug, in collaboration with NICE, recently experimented with the use of Snapchat during World Antibiotic Awareness Week 2017, when an antibiotic themed Snapchat geofilter was piloted at We the Curious on European Antibiotic Awareness Day.
Interested in getting involved with e-Bug?
Learn about the fantastic resources and activities: