In recent years we've seen many public health success stories, from smoking prevalence reaching an all-time low and reductions in deaths from cardiovascular disease, through to decreased rates of teenage pregnancy and a dramatic drop in new cases of TB.
But although in general our lives are getting longer, stubborn health inequalities persist across the country and it remains the case that people in the richest areas enjoy 19 more years in good health than those in the poorest.
We also see differences in health linked to learning disability, gender, race, age, sexuality or religion.
As well as being unfair, health inequalities are costly, putting a strain on employment and productivity, hitting national and local economies and impacting our public services.
For instance, the extra cost of inequalities to the NHS have been calculated as £4.8 billion a year in greater hospitalisations alone.
Everyone deserves the same opportunities to lead a healthy life, no matter where they live or who they are and the ingredients for a healthy life are relatively straight-forward: a good education, a decent job, a suitable roof over our head, friendships and networks to feel part of.
It's because these social and environmental factors are so important that local government and local areas have such a crucial role to play, forging alliances across their community that boost wellbeing and reduce inequalities.
To inform this vital work PHE, LGA and ADPH have worked together to publish Place-Based Approaches for Reducing Health Inequalities.
This new set of resources has two key aims:
To reinforce a common understanding of the complex causes and costs of health inequalities
To provide a practical framework and tools for places to reduce health inequalities
The creation of Place-Based Approaches for Reducing Health Inequalities has been informed by the views of a wide range of professionals across the country and this collaboration will continue as the resource is designed to be a live and iterative tool, reflecting new developments as they arise as well as emerging good-practice.
We're hoping that all local parts of the healthcare and public health system will find it useful, including local authorities, CCGs, STPs, ICSs and the VCSE sector.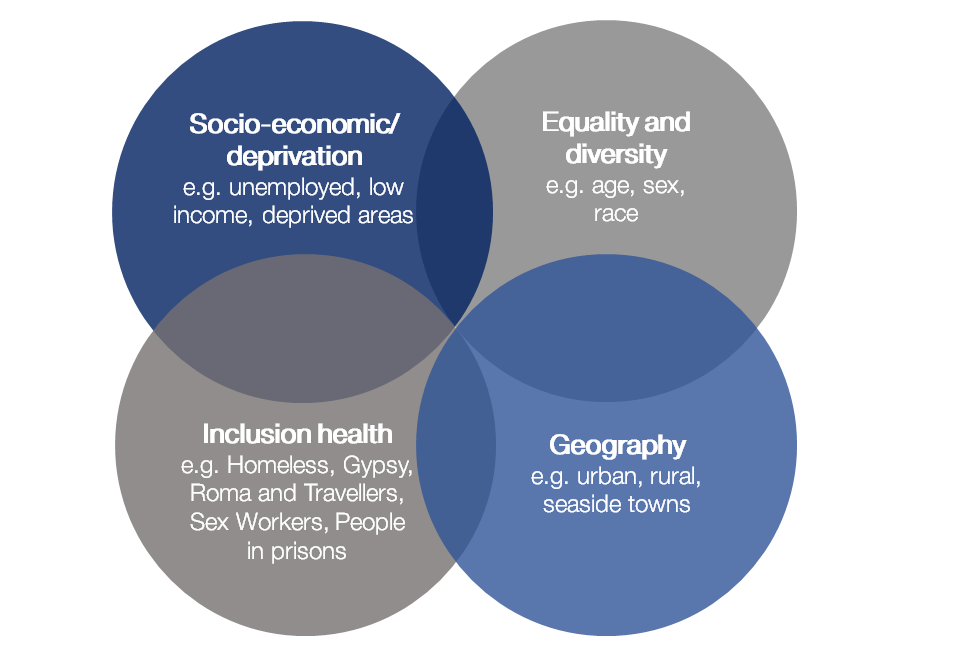 Working in partnership with the NHS
The resource has also been designed to complement the NHS's new 'Menu' of Evidence Based Interventions for Addressing Health Inequalities, due to be published soon, so that - as a package - they support local NHS bodies to create plans for reducing health inequalities as part of the Long-Term Plan.
PHE's Place-Based Approaches for Reducing Health Inequalities focuses on how the system can work together utilising civic, service and community centred approaches to reduce health inequalities, while NHS England's Menu identifies specific evidence-based interventions that can support this holistic approach.
Whilst both resources support the short-term focus held by local NHS bodies, they are also designed to evolve and expand so that they are a long-term resource and programme of work for the whole local system for years to come.
One example of a future resource that is already being developed in this programme of work is further in-depth guidance specifically on whole-system community-centred approaches. This will be published later in 2019.
Using the resource in local areas
Place-Based Approaches for Reducing Health Inequalities is modular, so users can decide whether they want to understand more about the context and causes of inequality, move straight to the practical framework for tackling health inequalities or access the range of annexes and tools which include:
practical self-assessment tools to implement the place-based approach
case studies of existing practice
guides to local health inequalities data to support decision making
Self-assessment guides can be used in-house, through a peer-to-peer approach (e.g. sector-led improvement) or through facilitated workshops which PHE staff are available to support with.
If your organisation is interested in this support from PHE, or have any questions or comments about this work, please contact health.equity@phe.gov.uk.