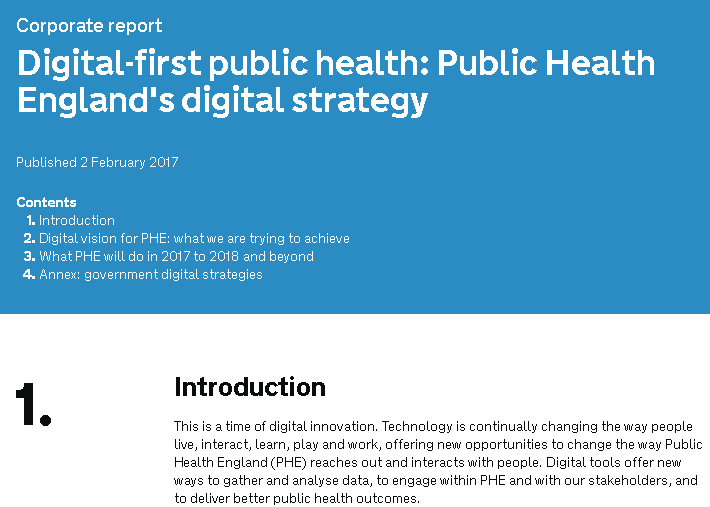 Public Health England now has its first digital strategy.
We hope it will start a conversation with our partners across national and local government, the NHS, the voluntary and community sector, the scientific and academic community and industry, as well as amongst our staff.
It's important because it sets out how we can respond to the increasing impact digital technology is having on public health and on our every day lives, including our health and well being.
Digital public health is a re-imagining of public health using new ways of working, blending established public health wisdom with new digital concepts and tools.
This is a journey we are all on – to understand how this developing technology works and the opportunities it will bring.
Highlights of the strategy are:
A description of how we will work together across government, with our partners and internally
An outline of our approach to digital "platforms"
A framework for the various ways in which we can approach digital work in public health. There are many options including advocacy, partnership and setting standards
A digital public health maturity index which can be used to think about where you or your teams are in digital awareness, practice and skill set
The actions we will be taking in 2017/18 across PHE and beyond.
There is a real opportunity now to shape and develop digital public health and for those who are new to this topic, do not underestimate how big a shift is coming.
One of my favourite sayings at the moment is; "I have never seen the world move as fast as it does now… and it will never be as slow as this again."
But do not be dismayed either. Public health folks are resilient and these new ways of working using digital technology are very much in tune with public health practice, understanding users and using data to create change.
If you are new to this - all it takes is a step at a time and my best advice is to start somewhere. As part of my learning I wrote an A-Z of digital public health and this will give you a useful introduction.
For those who are already on this change journey, who are leading digital projects and creating new models of public health, please do share examples of your leadership with us.
This strategy will evolve - we will build on it and add sections later as needed.
Please do add your comments and suggestions below. What is useful about this strategy? What is missing? What would you like to see next?