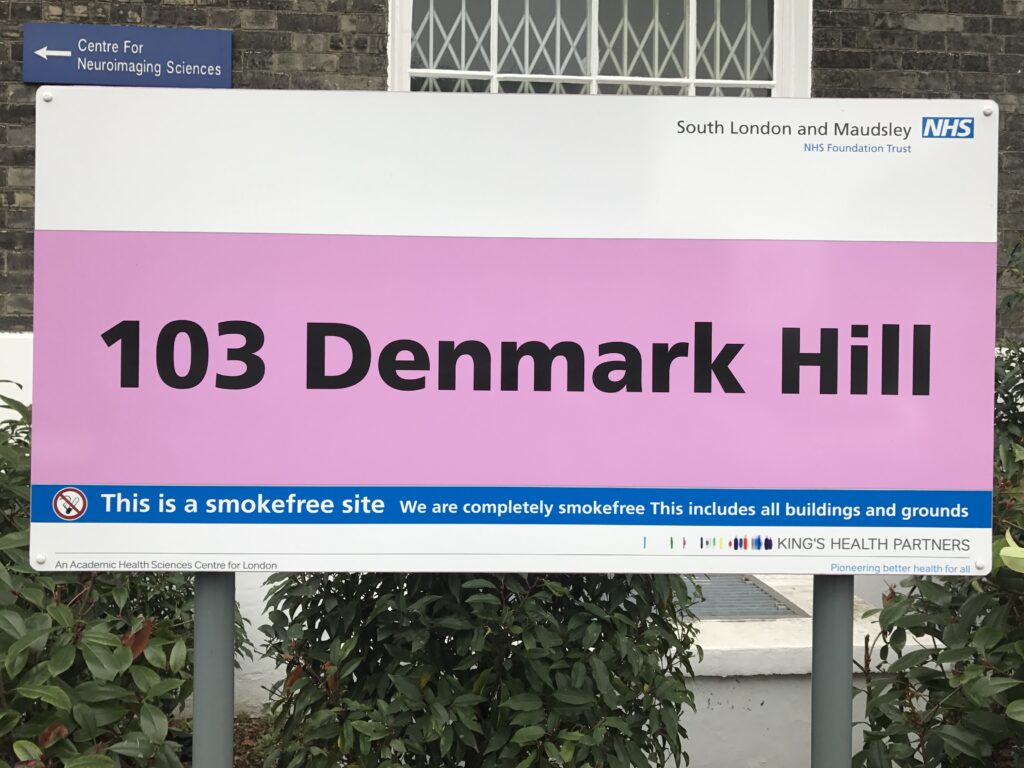 London has shown leadership in driving down smoking rates, but with 16% of the capital's population still smoking there is still more to be done.  
The capital's NHS trusts can play their part by providing the encouragement and support for more smokers to quit.
Quitting smoking should be part of helping patients to stay healthy, and stop smoking support should be viewed as an integral part of an effective care package.
We recognise that many Trusts already do this by being smoke free, and encourage others to take action.
South London and Maudsley - a smoke free NHS trust
Our team recently visited South London and Maudsley NHS Foundation Trust (SLaM) which is now completely smoke free.
SLaM provides NHS care and treatment for people suffering with mental ill health problems while also providing services for people who are addicted to drugs or alcohol.
We spoke to Mary Yates, Nurse Consultant for Health Promotion and Wellbeing at SLaM. Here's what we learned about their journey to becoming tobacco free.
At the beginning of their tobacco free journey Mary Yates and the staff at SLaM were seeing a high prevalence of chronic diseases in their patients, particularly heart disease and chronic obstructive pulmonary disease (COPD).
Despite great efforts on the part of SLaM's clinicians over a number of years, the prevalence of these diseases was not reducing.
At the same time, feedback from patients showed they were interested in how they could quit smoking in order to improve their overall health and wellbeing and improve their options for recovery.
SLaM began to look at what services were being offered to address tobacco dependence. Mary realised they knew very little and she noted that the trust had not been asking patients whether they smoked.
They weren't providing options for engaging with tobacco dependence treatment and, counterproductively, they were in fact spending a lot of their time and effort facilitating their patients' smoking.
The environment was organised in such a way that patients were escorted for smoking breaks and staff were engaged in spending parts of their day shopping for cigarettes or organising for smoking breaks.
Mary asked herself if this was a culture that seemed to be promoting a habit that caused patients to develop disease and early death, rather than promoting health and wellbeing.
Changing a smoking culture
SLaM began to completely change the aspects of their processes, infrastructure and environment which supported a smoking culture.  Critically they began to:
Screen every patient to find out whether they smoked or not.
Recognise tobacco dependence as an urgent clinical condition that requires evidence-based treatment.
Screening patients for their smoking status has since become embedded in SLaM's usual routine, changing their electronic record to make it a mandatory question.
Consenting patients are now automatically linked up with smoking cessation advisors.
The trust provides a full range of nicotine replacement products for their patients. They also  consider where appropriate the use of varenicline and when required support patients to switch from using burnt tobacco to using a cleaner form of nicotine such as e-cigarettes.
E-cigarettes can be purchased by patients or brought into services by visitors and used in permitted areas such as hospital grounds and single bedrooms.
SLaM invested in educating staff about the role of smoking in patients' lives and understanding that tobacco dependence is an urgent clinical issue that will affect their patient's recovery.
They have set up online and face-to-face courses, developed learning materials and there is plenty of informal support to help staff become smoke free champions.
Their smoke-free policy would never have been a success without its passionate clinicians and supporting staff who care about helping their patients live longer, healthier lives.
But SLaM credits some of their success to being part of an academic health science centre.
Working in partnership with the Institute of Psychiatry, Psychology and Neuroscience (IoPPN), a school of King's College London, has given SLaM close connections with experts in addiction.
These experts in tobacco dependence present a strong evidence base on the impact of smoking on SLaM's patient population and the benefits of encouraging patients to quit.
Patients - the most important stakeholders
One of the most important stakeholders in creating a smoke–free trust are the patients themselves.
The feedback SLaM got from patients was that many of them had a strong desire to quit smoking. In some ways this was surprising for staff who might have had a belief that smoking was something their patients relied on.
When they listened, patients were interested and open to hearing the benefits of quitting smoking, which included sometimes reducing medication, having more money to use for family, leisure and lifestyle, and being fitter and healthier.
SLaM recognises tobacco dependence needs to be treated across the whole care pathway. Most of their patients are treated in the community, and it's really essential that tobacco dependence is addressed within those community mental health services as well.
They want patients to be prepared to come into a hospital that is a smoke free environment. It's critical also that those patients are supported when they leave a smoke free environment after a period in hospital, by being connected with local stop smoking services so that they can get the best help to quit for good.
SLaM's journey shows what can be done.  It is important that the NHS plays its part in tackling tobacco use and helps in the collective effort needed to make ours a smoke free city.  I would therefore urge all NHS Trusts to follow the lead of SLaM and take the decisive steps needed to achieve this.
If you work for an NHS Trust which has done a lot of work on making your hospitals tobacco-free, let us know. We're looking for examples of successful, innovative work that can help others work with us to see a tobacco-free NHS.